These quick dinner rolls will knock your socks off! They are made, from start to finish, in about 50 minutes and are sweetened with a little bit of honey. This might be your new favorite recipe!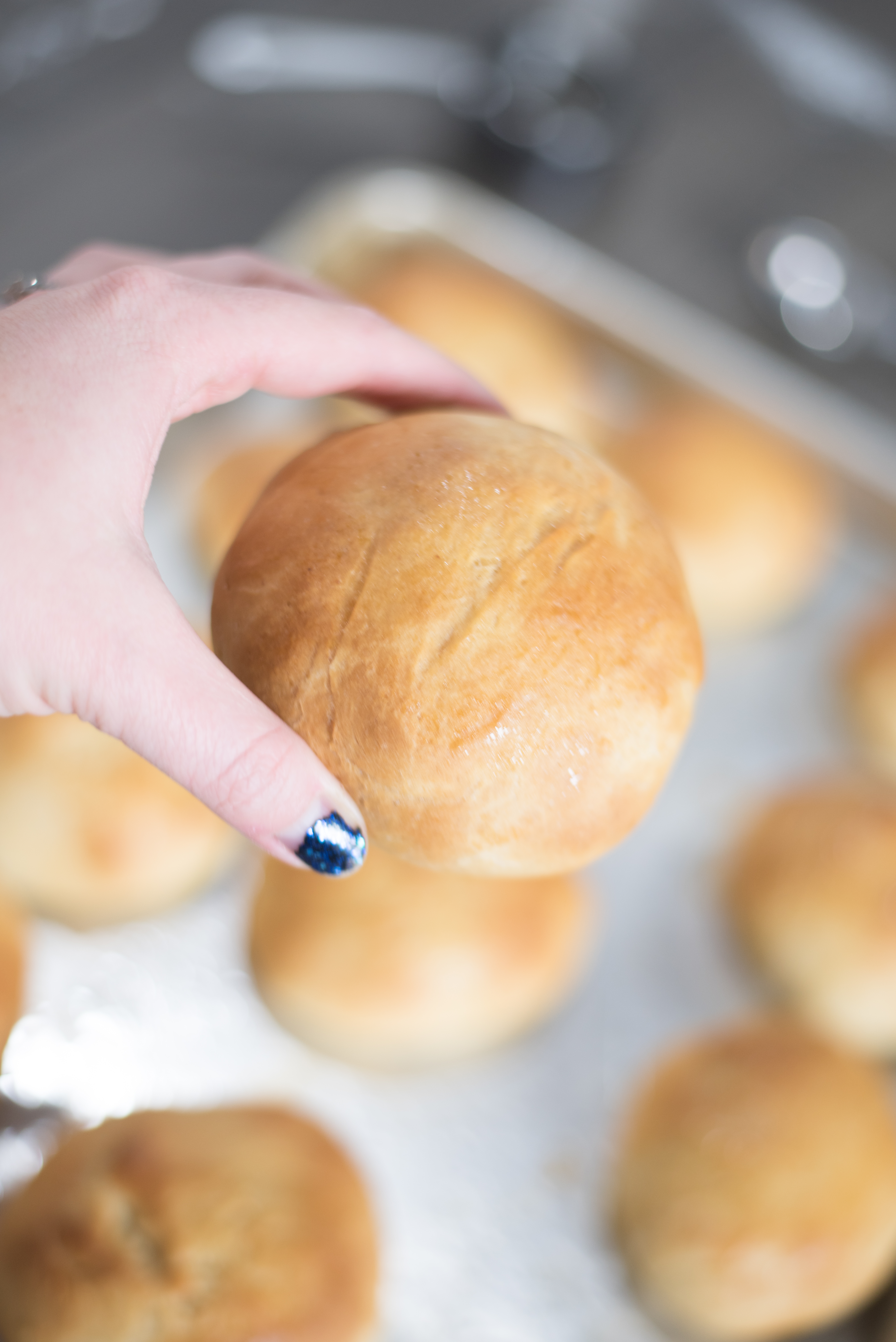 Quick Yeast Rolls
Sunday dinner is my favorite. Although we always eat dinner together as a family each night, I always try and put a little extra effort into our Sunday meals.
Because we take Sunday off from working and most activities, the day is usually spent relaxing and spending time together, and it always gives me more time to make a yummy dinner. While I still take full advantage of our slow cooker on Sundays, I usually will do a few "extras", such as homemade rolls or breadsticks.
But still, I don't love doing recipes that take a million hours to make or have tons of steps.
So last Sunday, I decided I wanted to make some homemade rolls, but I didn't want to have to wait for them to rise several times over the period of an hour.
I did a search on Google for quick dinner rolls, and I was presented with all sorts of options. I finally decided on this 30 minute dinner roll recipe from Kitchen Meets Girl.
However, as I usually do when trying a recipe, I read through all the comments to make sure I didn't make any errors that others had made.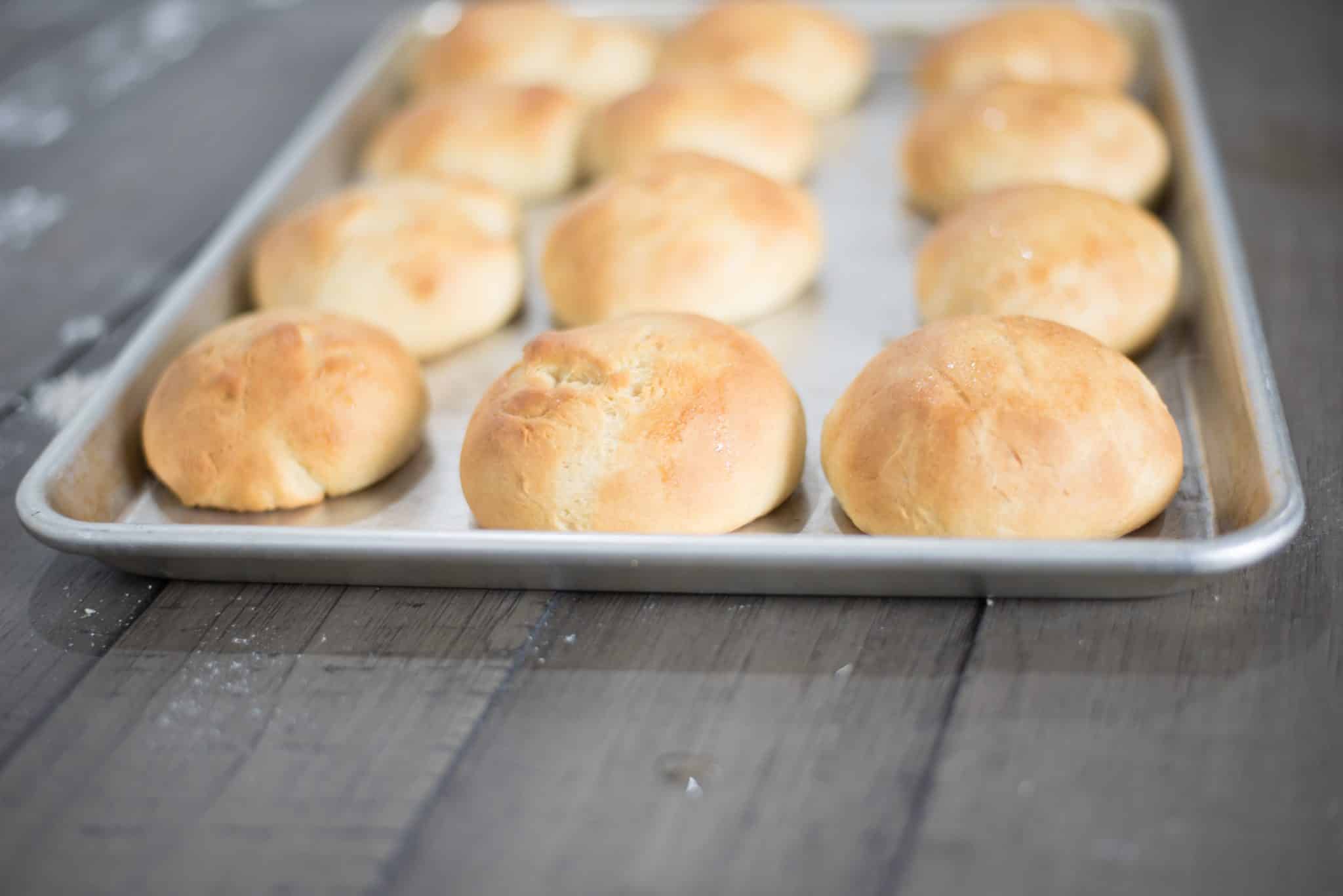 Sweet Dinner Roll Recipe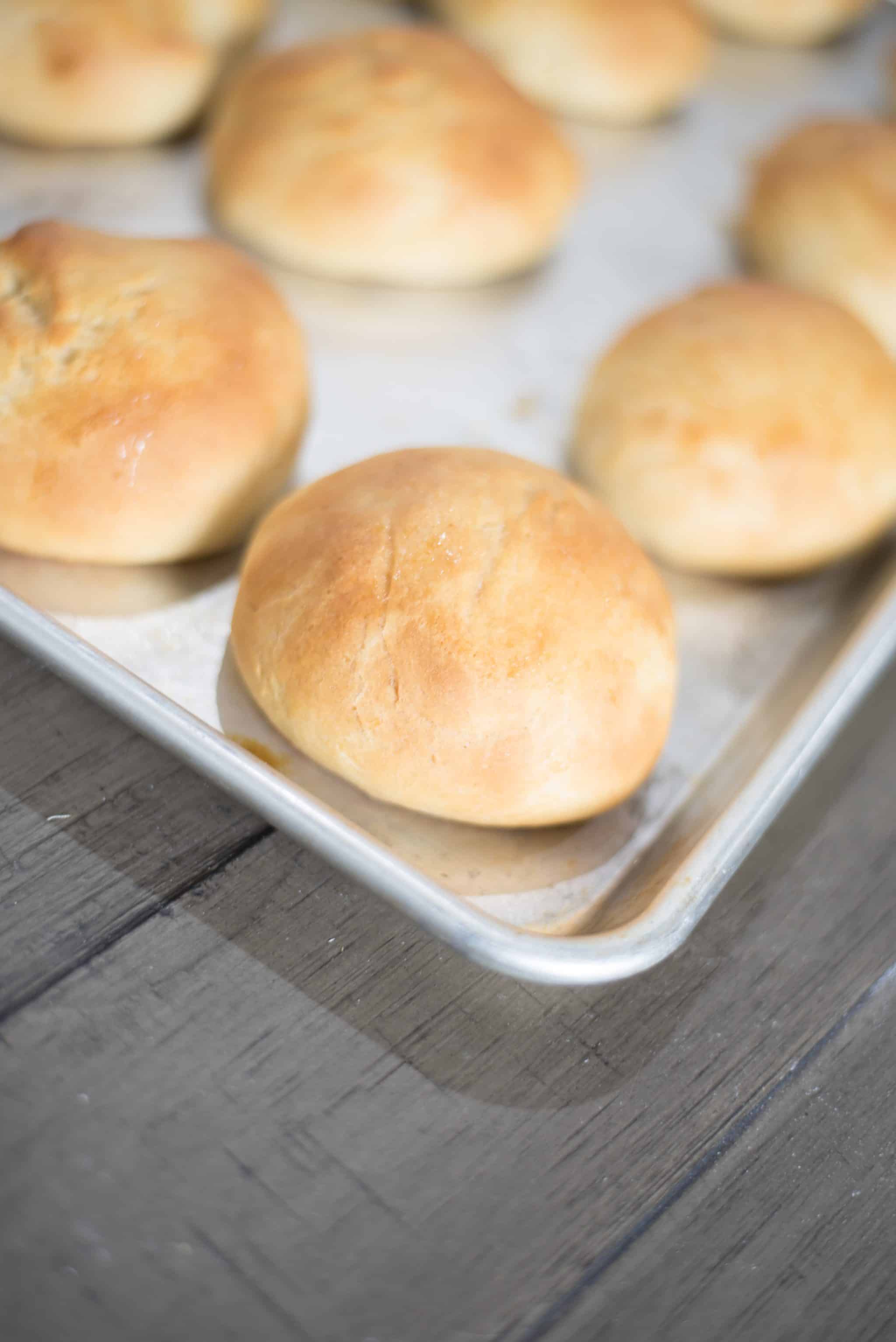 After doing this, I decided to let these rise a little longer, add honey to the dough, and also a butter/honey mixture to the pan and tops of the rolls.
So, these are no longer 30-minute rolls — closer to one-hour dinner rolls — but the extra thirty minutes made a difference, I think!
They were fluffy, yet, somewhat dense (if that makes any sense), and I couldn't get enough of them. They were the only thing that Jack wanted to eat at dinner when we had these.
I think the honey was a nice touch, as they made these rolls have a little more flavor — you didn't even need to add your own butter to them while eating!
They were still dinner roll -like enough that they tasted delicious with the roast, mashed potatoes, gravy, and okra we dined on as well, but they just had a slight sweetness that made them stand out.
You might also notice that these rolls are shaped slightly different than other rolls — I made them in a muffin pan! I had never thought of doing that before, but it was so easy, and they really turned out well.
If you opt to just use a baking sheet or a glass dish, just cover the sheet in the honey/butter mixture instead of the individual cups.
Stand Mixer I Use
I definitely recommend using a stand mixer if you have one with this recipe. You can definitely use an electric hand mixer with the dough hook attachment, but I do think roll making is MUCh easier when you use a stand mixer.
For years I have had a Kitchen Aid, but I recently made the big switch to a Bosch Universal Plus Mixer. You guys – this is a SERIOUS game changer! Making dinner rolls (and pretty much anything that requires mixing) in the Bosch is amazing. The capacity of it allows you to make large batches – but it also beautifully mixes small batches as well.
You can check out this post to learn more about why I recommend this mixer – The Ultimate Guide to the Bosch Universal Plus Mixer. And you can click below to learn more about it and check out their latest promotions.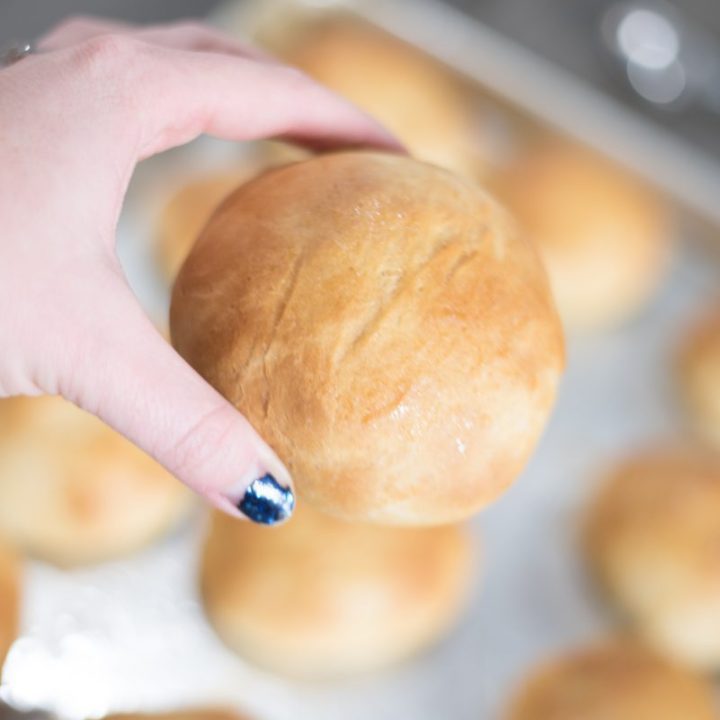 Fast Dinner Rolls
Ingredients
1 cup plus 2 tablespoons warm water
1/3 cup melted butter
2 tablespoons active dry yeast
1/4 cup honey
1/4 cup sugar
1/2 teaspoon salt
1 egg
3.5-4 cups white flour.
1/4 cup honey + 1/3 cup butter, melted together
Instructions
Preheat oven to 400 degrees.
In the bowl of your stand mixer, combine the warm water, honey, butter, yeast, and sugar. Allow the mixture to rest for 15 minutes.
Using a dough hook, mix 2 cups of the flour, salt, and egg into the yeast mixture.
Add the remaining flour 1/2 cup at a time until dough is no longer sticky and bounces back.
Spray muffin tin with cooking spray.
Place rolls onto baking sheet, or one ball into each muffin tin (should make 12 rolls). Brush tops with honey and butter mixture.
Let rise 25 minutes
Bake for 10-15 minutes or until tops are just golden brown.
Brush the tops again with the butter and honey mixture.
More Bread Recipes You May Enjoy:
About the Author
Latest Posts
Katie Clark is a mom of three with a passion for creating home-cooked meals every night for her family. She has learned the skill of cooking from the time she was young and comes from a long-line of women who love to cook. Over the years, she has developed this skill to not only help her family but thousands around the world with her popular copycat recipes, jello salads, and twists on traditional favorites. She has a degree in journalism and loves to help others succeed in getting dinner on the table!