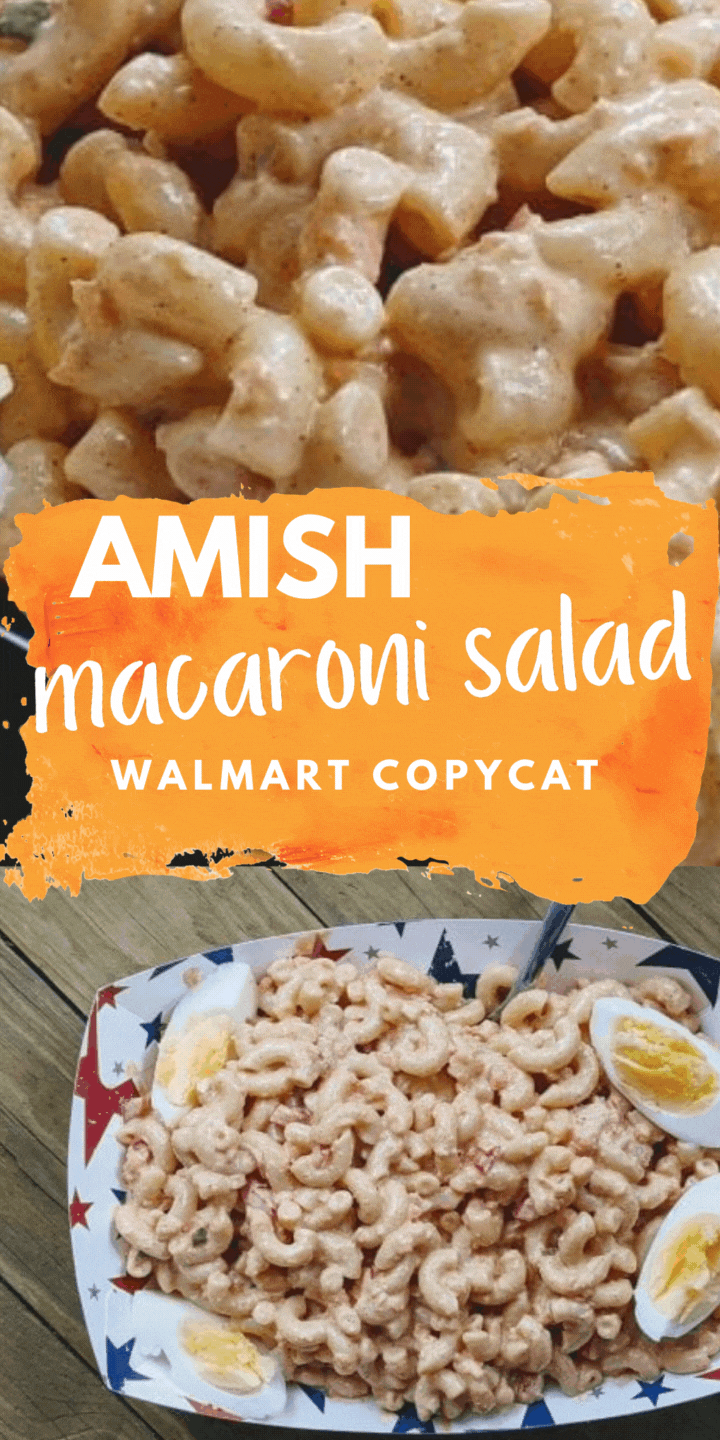 This Copycat Walmart Amish Macaroni Salad recipe is full of amazing flavor due to its creamy dressing. You can make it in a snap, and it's sure to be your go-to recipe for summer potlucks and BBQs.
We are big fans of making copycat recipes for all your favorite dishes out there – Walmart makes a delicious amish macaroni salad, and we think we've nailed it with this copycat! It might just become one of your all-time favorite recipes to serve year round. The tangy dressing is to die for! Making it at home, you're assured that you're not eating artificial ingredients.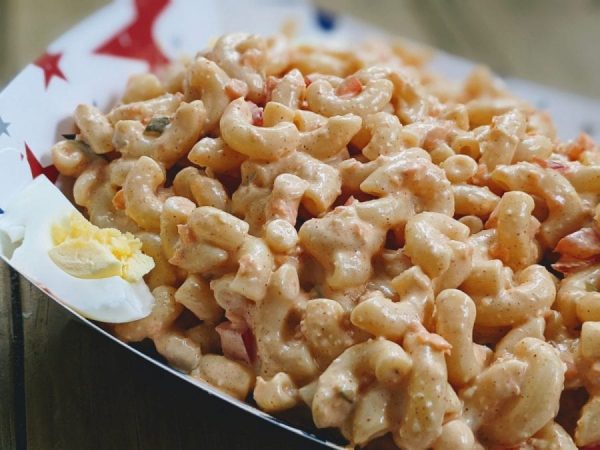 Summer is in full swing, and that means family gatherings, grilling out, and making some great memories over food. A favorite at cookouts and summer picnics is Walmart's Amish macaroni salad, and this copycat recipe is as good or better than what you can get in the store. It's a great dish to have at any event, and it appeals to kids, grown-ups, picky eaters, and foodies alike. It's always a hit!
Sure, you could just buy this recipe at Walmart – but if you are like us and enjoy making your food from scratch, we have got you covered. This is very reminiscent of Walmart's amish macaroni salad with it's sweet dressing, and it is such an easy recipe to make from home. It has red pepper, green pepper, and lots of other delicious ingredients. It really makes for a delicious side for holidays, BBQs, and potluck dinners.
What makes this work?
This recipe is a go-to for so many reasons. It's easy, with abut 15 minutes of prep, and that work doesn't even have to happen all at once. It can be made ahead (in fact, it's actually better the next day!), and it's really not expensive at all! Most of the ingredients are things you already have on hand, and won't break the budget. I estimate that it costs about $4 for a large dish, which feeds between 8-10 people. Whether you have a last-minute cookout, or neighborhood function where you need a big dish, this will become a go-to in your summer rotation.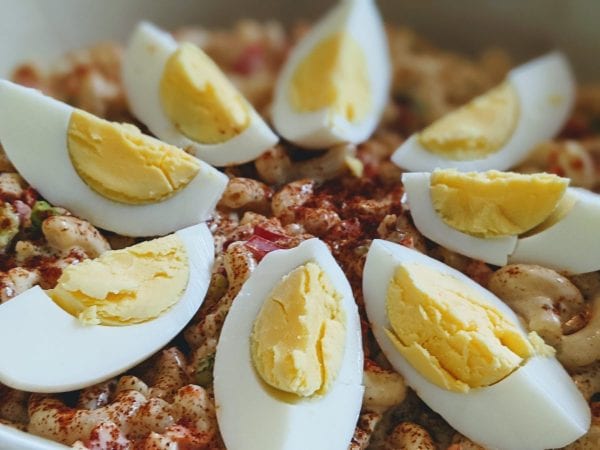 The Walmart Amish macaroni salad has a unique blend of sweet and savory, it's rich and fresh at the same time. You crave it, and definitely want to eat a second helping whenever you can. The origins of the recipe are unclear, and it probably didn't originate from Amish people. But whoever invented it, they were on to something.
What is in Walmart Deli Amish Macaroni Salad?
If you look at the Walmart.com website, it says the following ingredients are in their dish – we used their ingredient list as the basis for our recipe:
Cooked Enriched Macaroni (Semolina, Egg Whites, Niacin, Iron, Thiamine Mononitrate, Riboflavin, Folic Acid), Mayonnaise (Soybean Oil, Water, Egg Yolks, Vinegar Salt), Sugar, Hard Cooked Eggs, Water, Red Bell Pepper, Carrot, Mustard (Vinegar, Water, Mustard Seeds, Salt, Turmeric, Paprika, Spice, Garlic Powder), Onion, Vinegar, Salt, Modified Cornstarch, Potassium Sorbate (Preservative), Sodium Benzoate (Preservative), Xanthan Gum.
Amish Macaroni Salad vs Regular?
Should I use Mayo or Miracle Whip?
Some recipes call for Miracle Whip, which is a sweeter dressing than mayonnaise, but I really think using mayo is the better route. You can control the sweetness more easily, and end up with a better overall flavor. And, it's what Walmart uses, so if you want your salad to taste as good as theirs, it only makes sense to use the same ingredients, right? I'm generally a mayonnaise fan either way.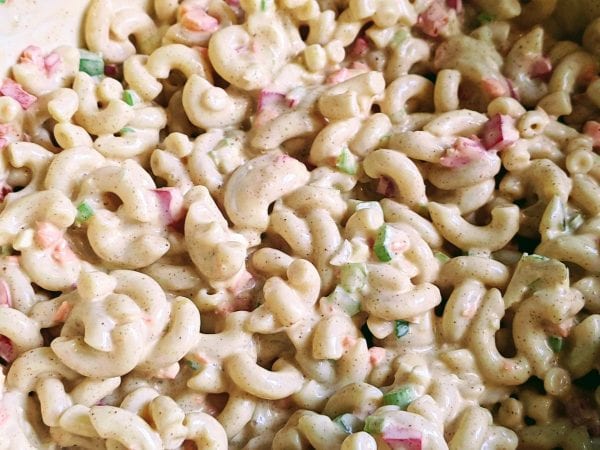 This recipe starts with mayo, and adds both vinegar and sugar to give it a rich flavor. Paprika, diced dill pickles or dill pickle relish, and mustard complete the flavor profile. Make the sauce in a separate bowl so that you can dip a noodle in to taste, and modify it to be perfect for your family. I like mine with extra pickles and less vinegar, so I always taste mine and add a little more of one thing or another before adding it to the noddles. Remember: It's easy to add more flavor to the mix, but it's hard to take it out!
I also make a little extra sauce, because it tastes better when it's saucier, and the noodles will always absorb some of the liquid, leaving the macaroni dry and sticky if there isn't enough sauce. This recipe has the right proportions for a good, saucy salad.
How do I prep the veggies?
I don't like to spend a lot of time chopping veggies for this recipe, so I actual just throw the carrot, celery, and onion into the food processor and pulse them into small pieces. It's fast, and helps them blend into the salad very nicely. I usually keep the red peppers and pickles a little bigger, because they add a good crunch and zing in their bigger size. I even throw the eggs into the processor to get them nice and small as well, because I prefer them small. But if you want them bigger, chop them by hand. Either way, you'll get the crunch of some chopped veggies throughout this dish.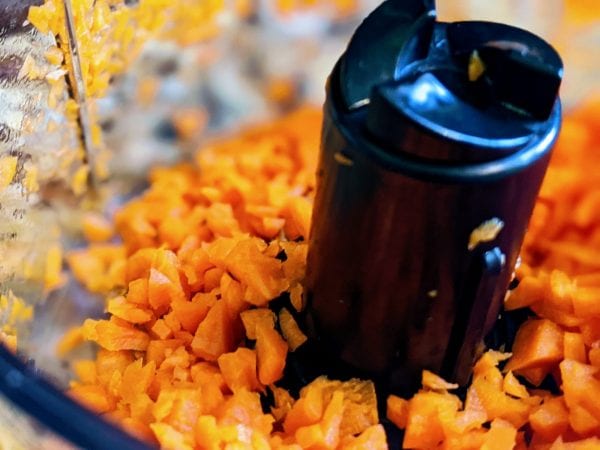 Using the food processor can speed things along and get veggies nice and small for the macaroni salad.
How should I cook noodles for macaroni salad?
Prepare the noodles for being added to the salad. Make sure to cook them for the full time directed on the box. Unlike with regular pasta dishes, you want these noodles soft, you don't want a firm macaroni noodle When they are done, rinse them thoroughly under cold water and get all the excess water out of the pasta. The goal is to cool them down completely, so they stop absorbing liquid, and won't stick to each other.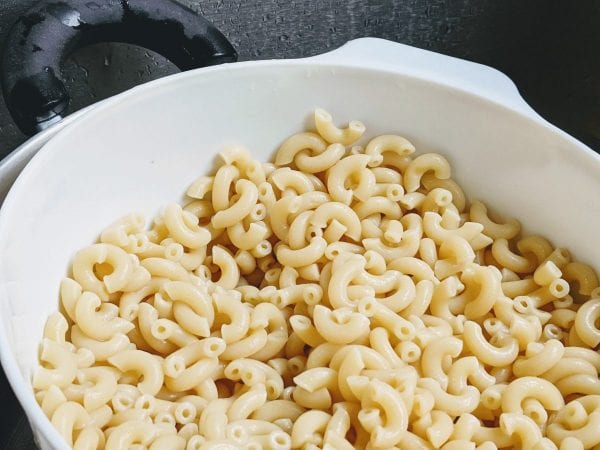 When should I prepare the eggs?
Prepare the eggs at the start of the recipe so they have time to cool before being added to the recipe. If you want a good way to hard boil eggs, use your Instant Pot! It gets them done perfectly every time, and doesn't turn your hot summer kitchen into a sauna with boiling water. Here's a great recipe for perfect hard boiled eggs!
Should I chill this recipe?
Chill the salad before serving. Even if you just have a few hours, make sure it spends time in the fridge. The noodles will tend to absorb the sauce, and being cold will prevent that. Macaroni salad just tastes better when it's had time to meld together and combine to one great flavor, instead of having all the separate flavors. So, chill the finished salad for at least two hours, and up to three days, before serving.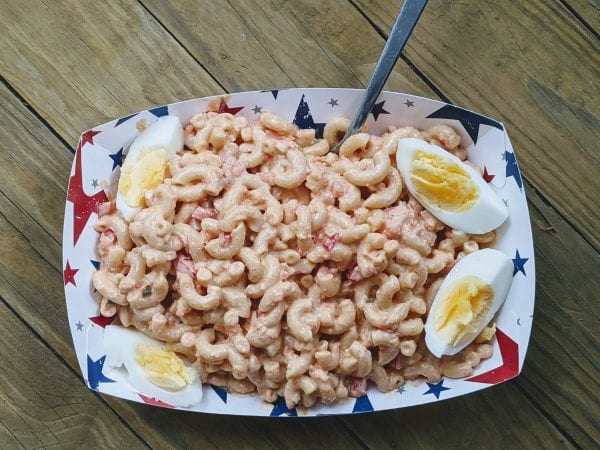 As with all products that use mayonnaise and eggs, be very careful to limit the time the dish is out at room temperature, or out in the hot summer sun. Eggs can spoil very quickly and make people very sick, which is not what you want at a family event! Unless you are careful about keeping the dish cool, it's best to dispose of any leftovers rather than save them for another day. It's not worth the risk of a severe stomach bug, and fortunately the macaroni salad isn't expensive.
Ingredients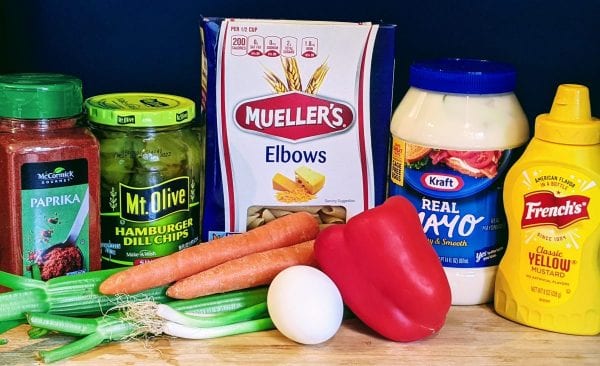 2 cups uncooked elbow macaroni noodles (half the box), cooked fully and rinsed
1/2 cup carrots, chopped finely
1/2 red bell pepper, chopped finely
1/3 cup celery, chopped finely
1/4 cup onion, or green onion, diced finely
2 eggs, chopped to desired preference, plus an extra egg for garnish if desired
1-1/2 cups mayonnaise
1/4 cup dill pickles, diced, or dill pickle relish
3 tablespoons white sugar
3 tablespoons yellow mustard
1-1/2 or 2 tablespoon white vinegar
1 scant teaspoon paprika, plus a little extra for garnish
Recipe
Boil the eggs and set aside to cool, or use this great Instant Pot recipe.
Cool the macaroni noodles as instructed on the box, rinse with cold water, and set aside to dry.
Chop and prepare the peppers, carrots, celery, and onion to the size you prefer.
When you're ready to combine the salad, make the dressing.
Combine mayonnaise, pickles, sugar, mustard, vinegar, and paprika in a small bowl.
Taste the sauce on a noodle to confirm it's to your preference.
Chop the eggs only when you're ready to combine so they don't turn color or get a bad texture.
Combine the macaroni and veggies and eggs in a large bowl, and then add the salad dressing.
Mix thoroughly, taste to ensure it is to your preference, and chill until it's time to serve.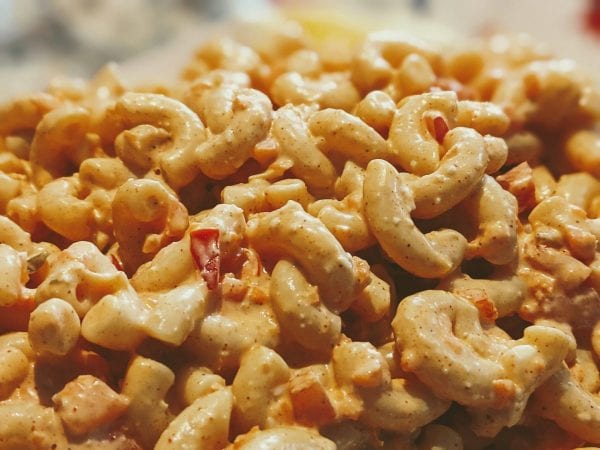 How many does this recipe serve?
This recipe serves 8-10 people – more or less depending on the appetites and ages!
How long does this last in the fridge?
It will stay fresh in the fridge up to five days, but do not save leftovers if the dish has been left out or been out in the warm sun for any length of time.
How should I store leftovers?
If you store leftovers, make sure you put them in the fridge right away in an airtight container. We do not recommend freezing this recipe.
What should I serve with this macaroni salad recipe?
Macaroni salad is PERFECT for so many different types of dishes. Here are a few that might be especially tasty!
Crispy chicken strips
Hamburgers
Hot dogs
Fried chicken
Brisket
Ribs
Green Beans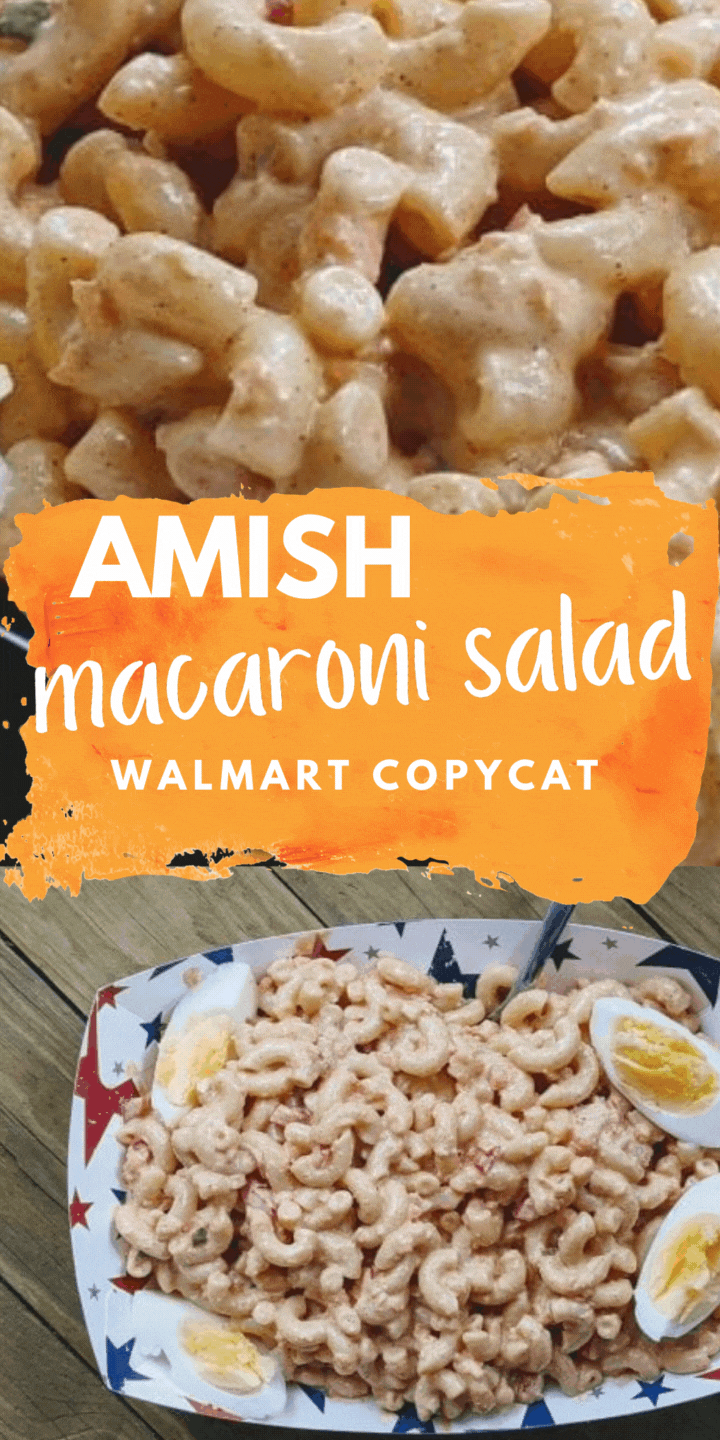 Other Wholesome Dinner Sides
This easy deli macaroni salad is easy to make and perfect for get togethers and will be a tasty favorite for everyone – especially for summer dinners. It's the perfect side dish for a hearty meal. If you really want to complete the meal, you should consider making
About the Author
Latest Posts
Natalie Clark is a mother of three children and a cooking enthusiast. She can often be found concocting delicious meals for family and friends in her kitchen. Homemade cookies are what she's made for. From working in Washington DC to being a stay-at-home mom and part-time editor, Natalie has done it all. Through her life adventures, she's developed her cooking skills and has developed some of the most popular recipes on Simply Side Dishes.