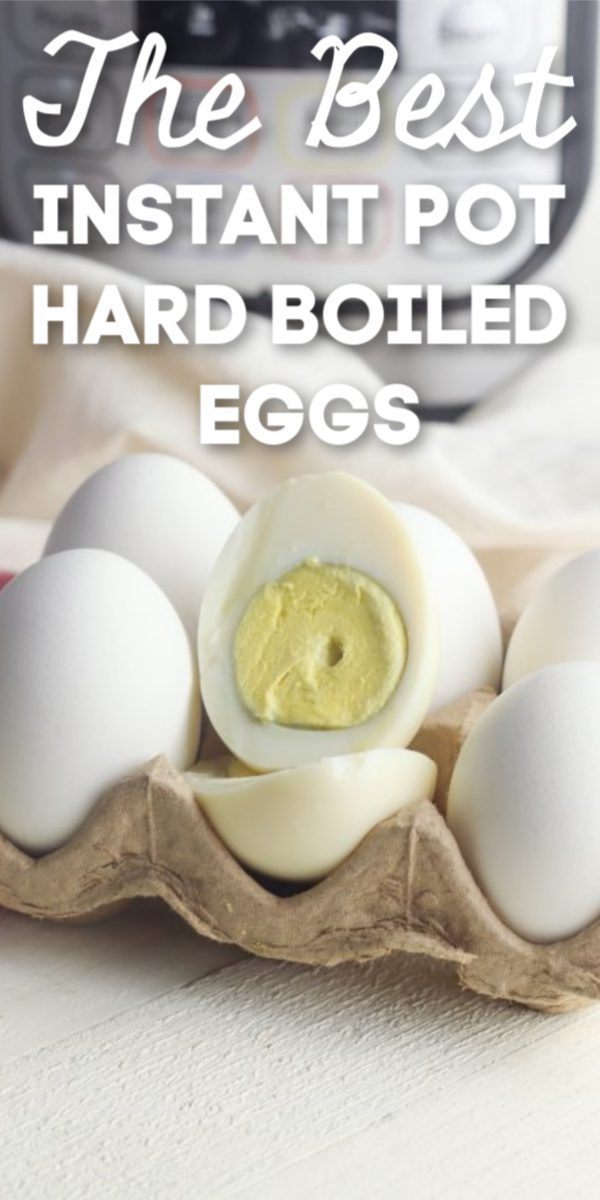 Instant Pot hard-boiled eggs are the BEST way to make boiled eggs. They are so delicious and easy to peel. Here is our perfected method (with specific instructions for altitude)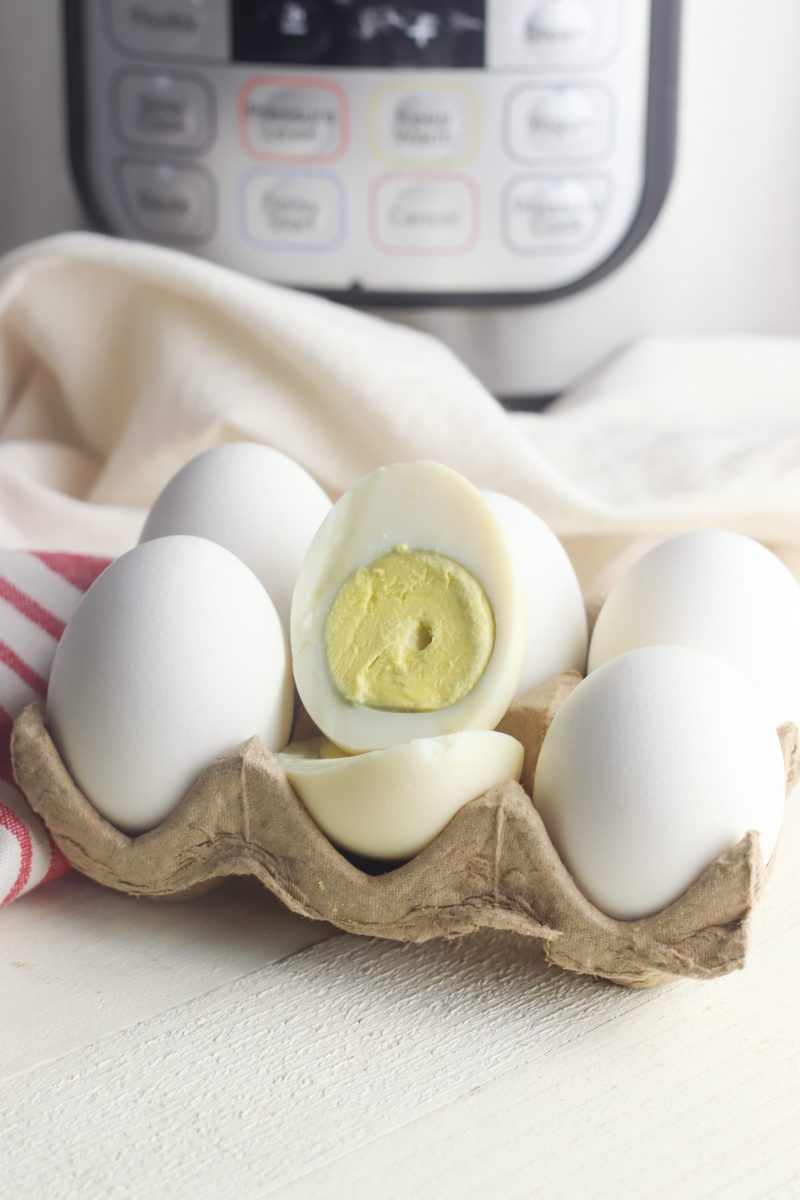 Whether you're making a big batch of eggs for an Easter egg hunt or you just want to enjoy a hard-boiled egg for lunch, finding the best way to boil eggs is essential.
And while you could place your eggs on the stovetop and hope for the best, I'm here to tell you there's a better way!
Using your Instant Pot to boil eggs is the easiest and tastiest method for making hard-boiled eggs that I've found.
This is a method that I WOW people with all the time – it's turned some Instant Pot skeptics into Instant Pot lovers.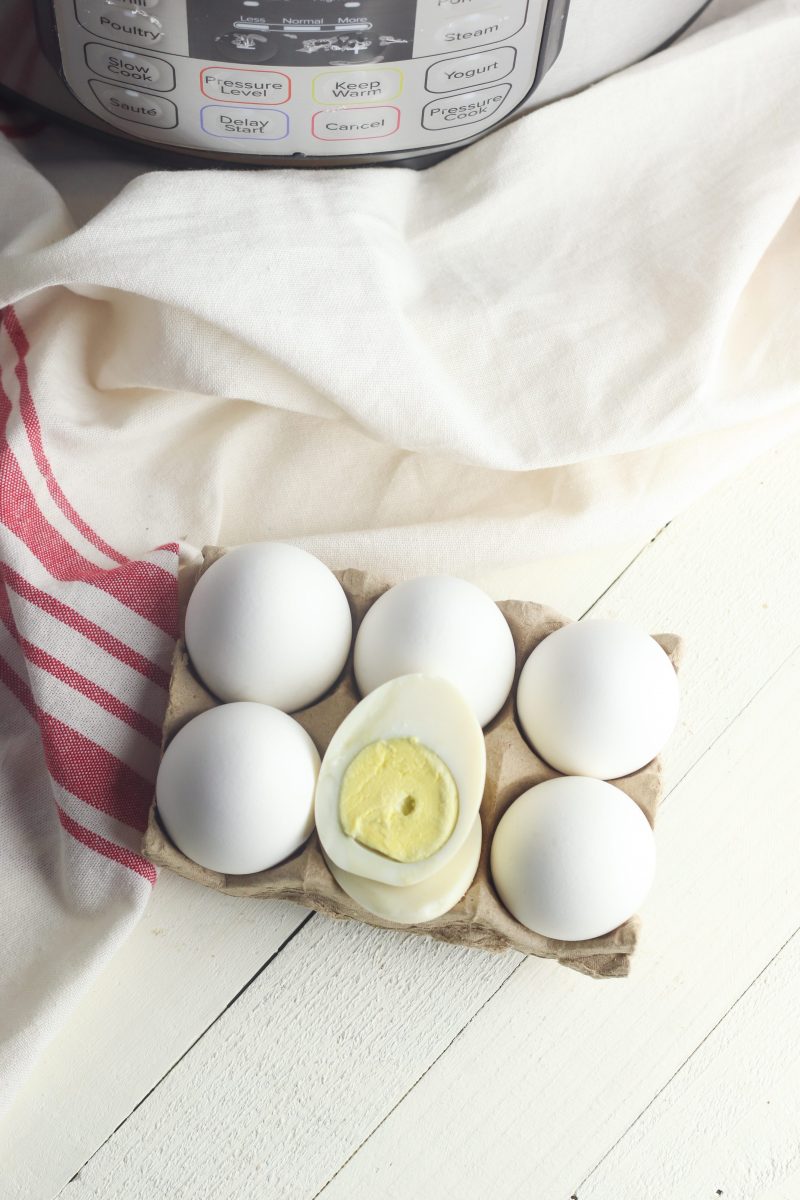 Why Use an Instant Pot for Hard Boiled Eggs?
There are so many great reasons for using your pressure cooker to make eggs! If you're wondering why you should be using your Instant Pot for making hard-boiled eggs, here are my favorite reasons:
You can make a big batch. There is tons of space in your Instant Pot for cooking a large batch of eggs all at once. That means it's perfect for boiling eggs for your next Easter party!
It's so easy! To boil eggs in your instant pot, you just have to place the eggs inside, seal the Instant Pot, and push a button. The pressure cooker will do all the hard work for you. And no matter how big or small your egg batch is, the cook time remains the same so there is no need to worry about your eggs being over or undercooked when you remove them.
The eggs are easy to peel. Pressure cooking your eggs is a great way to ensure your eggs are easy to peel when they're finished cooking. This is what people seem to be most shocked by when I demo this!
Cooking eggs in the Instant Pot is fast. Your eggs cook in just six minutes in the Instant Pot.
You can set it and forget it. If you've ever forgotten about eggs boiling on the stovetop, you know that setting and forgetting about a boiling pot of eggs isn't a good idea. But with the Instant Pot, you can place your eggs inside and let them cook without worrying about a big smelly mess if you forget about them.
How to Make Hard-Boiled Eggs in the Instant Pot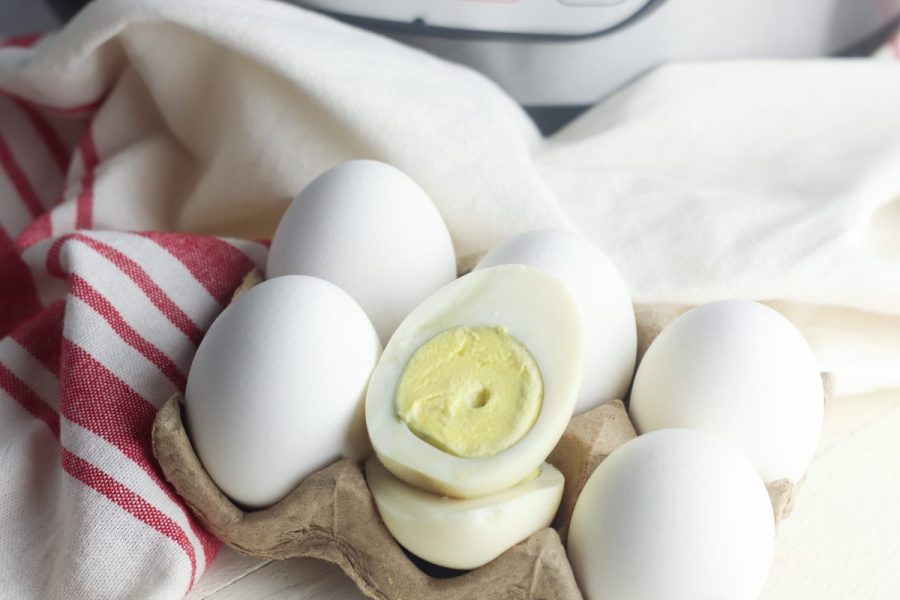 Making hard-boiled eggs in your Instant Pot couldn't be easier. It's so easy, in fact, that you only need to ingredients for perfectly boiled eggs every time:
There's no need to add special ingredients to the water, like salt or vinegar, to assist with peeling your eggs after they're cooled. The shells come right off without any trouble after cooking them in the Instant Pot.
You can put them directly into the bowl – however, I really like to use my vegetable steamer basket just so it's easier to remove them once they are done.
After gathering your two ingredients, start by pouring water into the bowl of the pressure cooker. Then, carefully place your eggs in the Instant Pot.
Instant pot made easy
Sign up below for a FREE email course ALL about the Instant Pot - tips for getting started, favorite recipes, and a free printable reference chart!
When you have added all the eggs you need to cook, place the lid on the Instant Pot and seal the vent. Set the pot to pressure cook on high for five minutes.
When the cook time is up, allow the pressure cooker to do a natural release.
To do a natural release, simply let the Instant Pot release pressure from inside the pot on its own. There is no need to move the sealing vent to release pressure for this method.
Once the pressure has been released from the pot, remove the lid and carefully remove the eggs from the pot. Transfer the cooked eggs to a large bowl filled with ice water to chill the eggs.
Instant Pot Eggs at Altitude
I see a lot of debate on what the best method is; it seems to be between the 5-5-5, 6-6-6 and 7-7-7 methods (each of those numbers represent a different stage of the cooking process – time at pressure, natural pressure release, and time in a water bath).
I live at a higher altitude in Colorado, and I have found that the 6-6-6 method works the best here. I've played around with the timing, and I really think that is the best method.
You may have to play around with it a little bit if you live elsewhere.
How Many Eggs Can I Cook?
You can cook as many as you want! There is a fill line on your pot, so I wouldn't go past that. But you don't have to stick to just a couple. I have cooked a whole pot for before with no trouble.
Tips for Peeling Eggs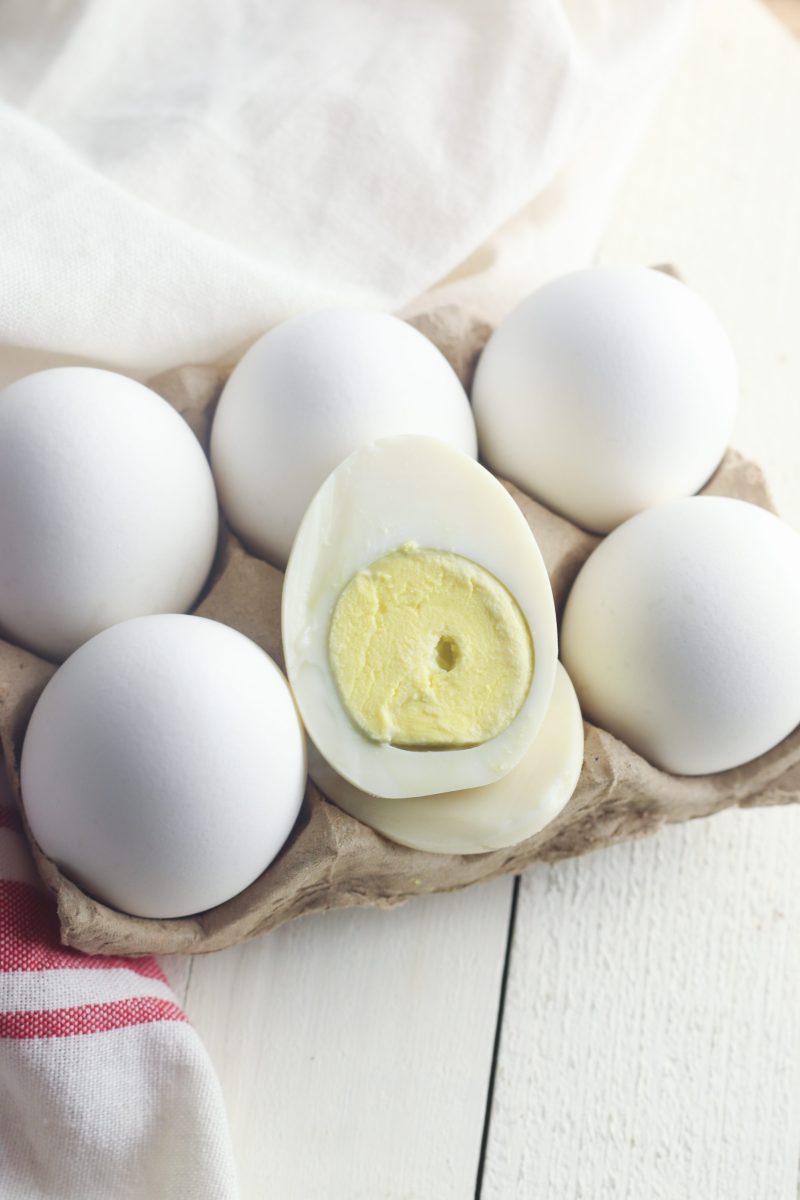 Making your eggs in the Instant Pot is the easy part. Getting the shell of your hard-boiled eggs can sometimes be a little trickier. Cooking your eggs in the Instant pot is a great way to ease the peeling process, but these simple tips will make peeling your hard-boiled eggs even simpler.
Peel right after cooling. Hard-boiled eggs peel more easily right after they're cooked. That means you'll have an easier time getting the shells off the eggs if you begin peeling them right after taking them out of the ice bath. You can store peeled eggs in an airtight container in your fridge.
Use room temperature water to help remove the shells. After chilling your eggs in an ice bath, transfer the eggs to a bowl of room temperature water one at a time. Roll the egg along the side of the bowl to crack the shell, then submerge the egg in the water to peel. The water will help separate the shell and membrane from the white, making it easier to peel.
Start with older eggs. When making hard boiled eggs, it's best to skip the fresh eggs and opt for older store-bought eggs. Older eggs have a higher pH than fresh ones, which makes the whites less sticky when they're cooked, so they're easier to peel.
Make lot of small cracks instead of one large one. To avoid damaging your egg, try making several smaller cracks in the egg shell by rolling the shell on the counter with the palm of your hand. These small cracks in the shell help the membrane detach from the egg white, preventing damage to the egg as you're peeling.
Boiled Eggs in Instant Pot
12 (or more) large eggs
2 ½ cups water
Instructions: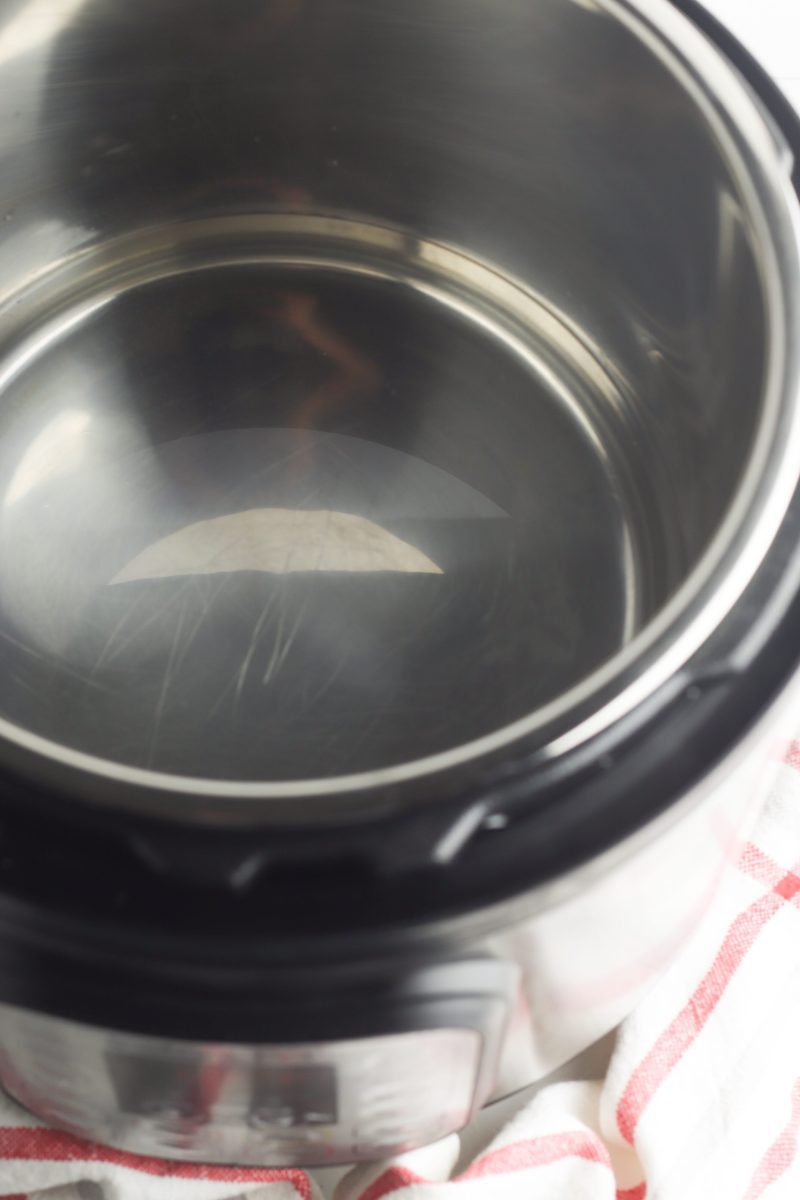 Add water to the bowl of the Instant Pot.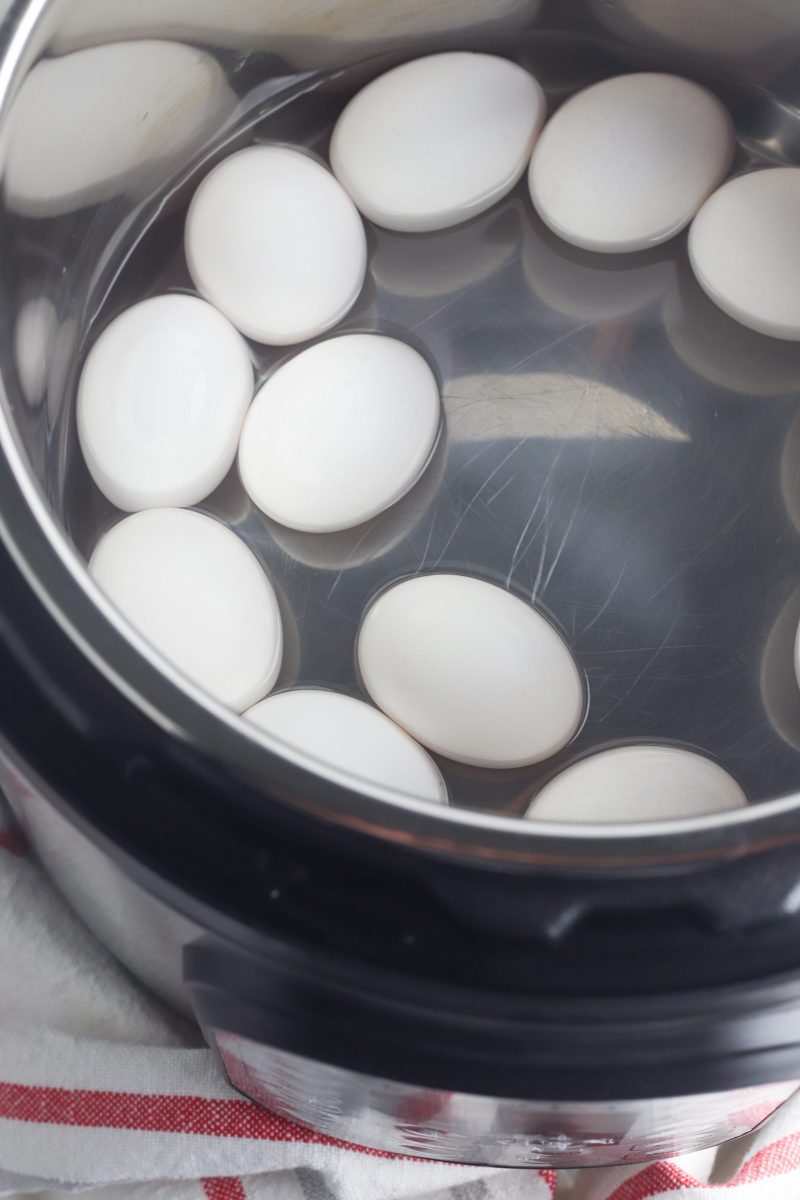 Place the eggs in the water.
Put the lid on the Instant Pot and seal the vent. Set to pressure cook on high for six minutes.
When the cook time is up, allow the Instant Pot to naturally release the pressure for six minutes.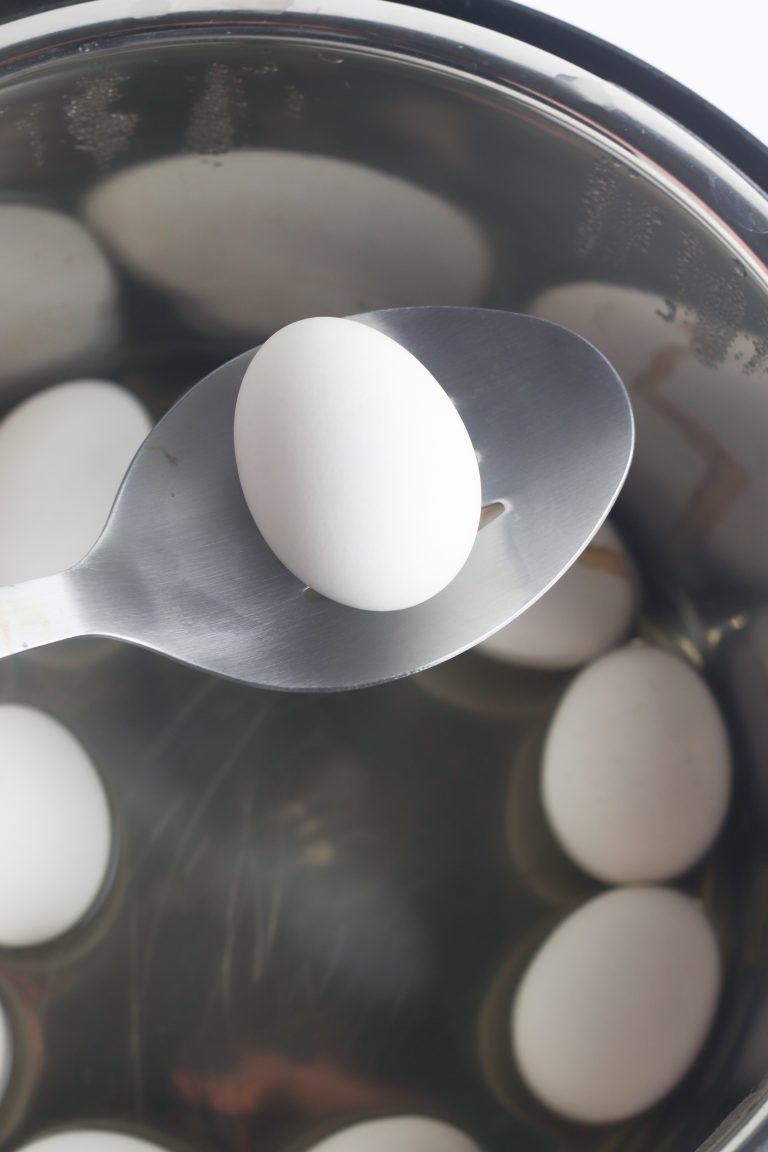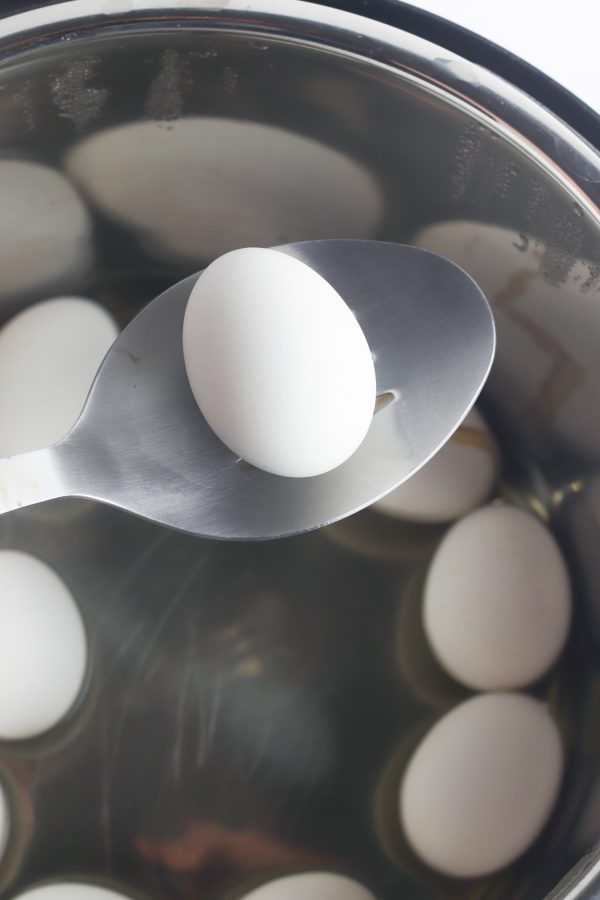 Remove lid from Instant Pot and transfer eggs to a bowl filled with ice water.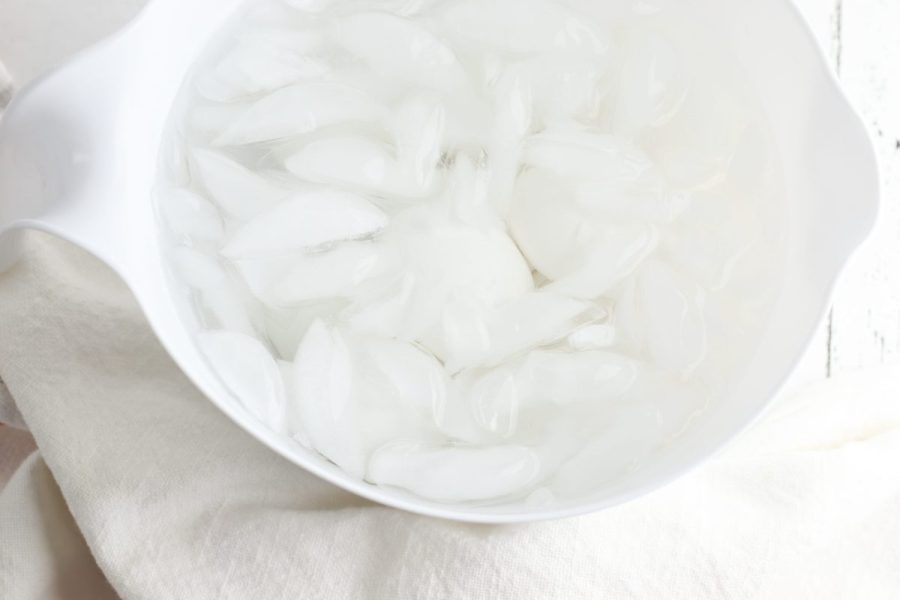 Allow eggs to cool in the ice bath for six minutes before peeling.